Welcome Home, in Cherokee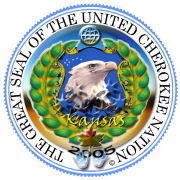 Kansas Clan

Currently under the control of Chief David "Raven" Berlowitz (Nebraska)

Awaiting the calling of a New Clan Chief.

Please contact the National Office for more information.
Contact Information;
See the Home Page for our current address, email address and phone number.
Copyright © 2005-2020: Property of The United Cherokee Nation (UCN) and may not be copied or distributed without expressed written consent.